Legislation Pertaining to Ship Recycling and Swansea Drydocks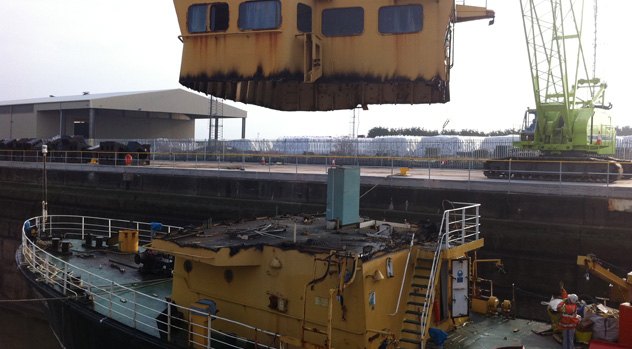 Basel Convention
End-of-life ships, scrapped primarily for their valuable steel, are considered hazardous waste under international law. The Basel Convention is an international treaty that was designed to reduce the movements of hazardous waste between nations, and specifically to prevent transfer of hazardous waste from developed to less developed countries. The Basel Convention, with 170 member countries, prohibits the export of all hazardous wastes to developing countries and has adopted ship recycling guidelines calling for a phase-out of the use of beaches to scrap ships. The European Union fully implemented the Basel Convention in its Waste Shipment Regulation (2006) making it legally binding in all EU member states. However, the Convention was never developed for this particular scenario and consequently does not have provisions required for the specific characteristics of the shipping industry.
The International Maritime Organisation (IMO) / Hong Kong Convention
The IMO is a specialised agency of the United Nations with 169 Member States and three Associate Members. Its main task is to develop and maintain a comprehensive regulatory framework for shipping. In May 2009 a diplomatic conference concluded the Hong Kong Convention on the Safe and Environmentally Sound Recycling of Ships. Regulations in the Convention cover:
·
The design, construction, operation and preparation of ships to facilitate safe and environmentally sound recycling, without compromising the safety and operational efficiency of ships
·
The operation of ship recycling facilities in a safe and environmentally sound manner
·
The establishment of an enforcement mechanism for ship recycling, incorporating certification and reporting requirements.
The Convention will require each ship to produce and update an Inventory of Hazardous Materials (IHM) and to be recycled according to a Ship Recycling Plan. It is not expected to enter into force before at least 2015, however ship owners are increasingly supporting environmentally sound practices and preparing to conform to the legislation.
The UK Ship Recycling Strategy
UK Ship Recycling Strategy establishes domestic policy for the recycling of UK government-owned vessels, sets out relevant waste controls and recommendations for owners and operators of UK-flagged vessels and informs the UK position for international negotiations on ship recycling. The UK government aims to provide a positive example to the international shipping community, especially owners and operators of UK-flagged vessels, by ensuring its vessels are recycled in accordance with acceptable environmental, health and safety standards, particularly in accordance with the principles of environmentally sound management. In addition, the UK government supports, through the provision of guidance, the development of UK capacity for recycling of end-of-life vessels in an environmentally sound manner.
Permitting Requirements
Ship recycling is considered to be a waste activity covered by the Waste Framework Directive and ship recyclers are required to have an Environmental Permit. A permit cannot be issued until planning permission/Certificate of Lawful Use is in force or the Planning Authority has confirmed that no planning permission is required.
Swansea Drydocks' permits include:
·
Lawful Development Certificates
·
Environmental Permit: Environmental Permit
·
Registered as a Hazardous Waste Producer