Projects Completed
Stanley H

in addition to the removal of the Heysham Link-Span Bridge for Peel Ports Group, Swansea Drydocks also assisted with the removal and recycling of Stanley H, an old oil tanker.
---
Heysham Linkspan Bridge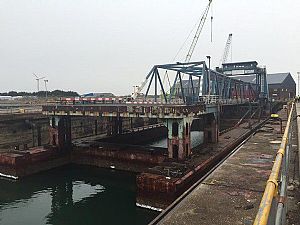 Swansea Drydocks assisted Peel Ports Group to remove and dispose of a floating bridge.
---
Atlantic Osprey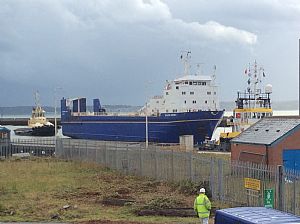 In July 2014 SDL won a contract from Serco to recycle the nuclear roro carrier Atlantic Osprey owned by Industrial Nuclear Services (INS). The vessel had been laid up at Ramsden Dock in Barrow-in-Furness since her withdrawal in December 2013. INS is the world leader for marine transport of radioactive material.
Atlantic Osprey left the port in mid-August bound for Swansea dry dock, where she was to be dismantled and recycled.
The 3,793gt vessel arrived on 22nd August 2014 under the tow of the Dutch anchor-handling tug Graceland (ex-Neptun 11)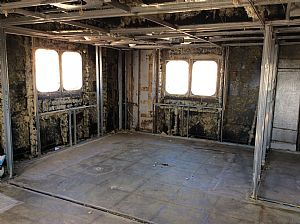 Soft stripping started on 26th August 2014 followed by dismantling on 12th September 2014. Vessel was completed by end of November 2014.
Percentage recovery rates achieved for the vessel.
Material recovered by re-use 5.23%
Metals recovered by recycling 91.29%
Other materials recovered by recycling (Oils and Wood) 1.90%
Waste disposed to landfill 1.58%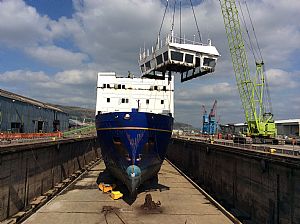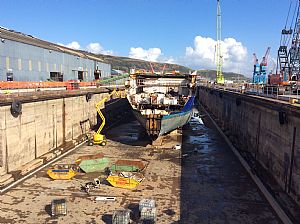 By choosing to have Atlantic Osprey recycled in a dry dock rather than afloat, INS was able to ensure more effective cleaning and recycling techniques. This was demonstrated and is shown in the returns above.
---
Ex HMS Cornwall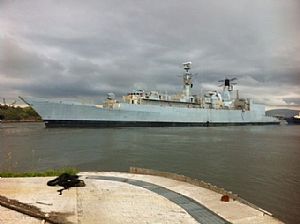 In July 2013, Swansea Drydocks won the MOD competition to recycle the former HMS Cornwall, a Type 22 frigate of the Royal Navy. The vessel was built in 1985 by Yarrow Shipbuilders in Glasgow, commissioned at Falmouth in 1988 and decommissioned in 2011 following a six-month deployment conducting counter-piracy operations east of Suez.
To win the contract, Swansea Drydocks was required to demonstrate their capabilities and resources; relevant experience and technical expertise; the mandatory permits, approvals and licences and those of its subcontractors; the competence to deliver a safe and environmentally sound ship recycling service and the ability to maximise the financial return from the ship's metals, materials and equipment whilst minimising waste to landfill.
HMS Cornwall was towed to Swansea in autumn 2013. For several weeks, she was tied up to SDL wet berth where the initial phases of recycling – such as soft stripping and the removal of some hazardous wastes – were carried out. She was then moved to one of the facility's two dry docks for full dismantling and breaking up of the vessel's hull.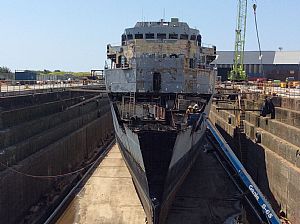 The work activities undertaken were split into two phases:
The Soft Strip, which was undertaken on the repair berth from receipt of the vessel until 20th May 2014.
The Hard Strip and recycling, which was undertaken in Dry Dock No2 from 21st May until 30th October 2014 when recycling of the vessel was completed.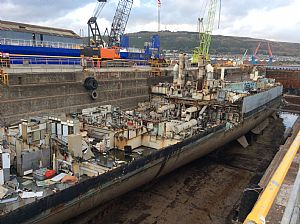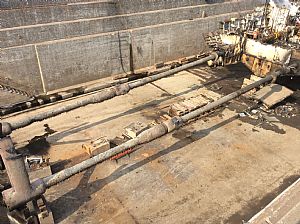 ---
Norstone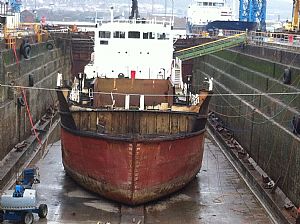 In February 2014 Swansea Drydocks Ltd agreed terms with Boskalis Group for the recycling of suction dredger Norstone.
Vessel arrived at the Swansea Drydocks Ltd (SDL) facility on the 8th March 2014 for full dismantling and recycling.
SDL had fully prepared for the dismantling and recycling of the ship in the Ship Specific Recycling Plan (SSRP) that had been approved by Natural Resource Wales. The SSRP was prepared from the company processes, procedures, documentation, accreditations and permits that are all in full accordance with current legislation including the Hong Kong International Convention for the Safe and Environmentally Sound Recycling of Ships, 2009 (HKIC 2009).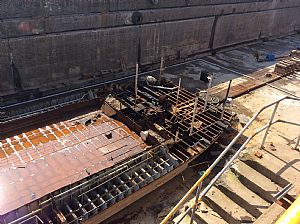 The SSRP covers and sets out controls for work covering:
Preparatory works and sequence of operations.
Pre arrival of the ship.
Ship arrival, walk-through and on receipt surveys.
Management of Hazardous Materials.
Environmentally sound waste removal methods and controls in accordance with the Waste Framework Directive Waste Hierarchy.
Safe entry and hot work procedures.
Review of Ship Recycling Facility Plan (SRFP).
Ship specific elements and controls.
Dismantling Sequence.
Completion checks, dock restoration and re-flooding.
Preparation of Completion Statement.
Vessel was completed on the 6th May 2014 and returned:
Material recovery by re-use 12.60%
Material recovery by recycling 83.27%
Material disposed of as waste 4.13%
---
Shark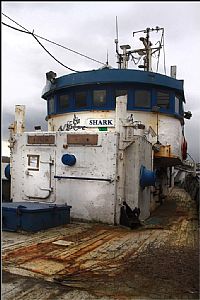 Shark, which has had several name changes:
Originally Azimuth when it was launched in 1964
"Prins Maurits", "Grietje" and then finally "Shark"
Departed from Cardiff Bay for its arrival at Swansea Drydocks Ltd for recycling on January 19 2014
Photograph courtesy of Ben Salter.
---
Ship Recycling Case Study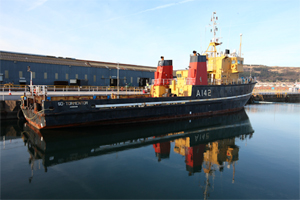 Swansea Drydocks recently recycled the SD Tormentor, a 550 gross tonne support vessel built in 1980. Owned by Serco, a FTSE 100 UK ship owner/operator, the ship was required to be dismantled using the most stringent environmental and health & safety standards. This page describes the recycling processes for SDL's first ship recycling project.
On December 21st 2011, Swansea Drydocks presented formal notification to the UK Environment Agency for the arrival of a ship for recycling under a contract between SDL and Serco. Three specific management plans to recycle the ship were submitted to the UK Environment Agency. These plans consisted of: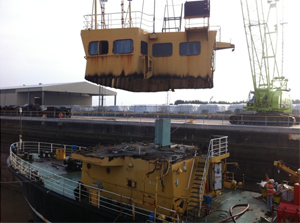 Ship Recycling Plan. This plan sets out:
o Preparatory works and sequence of operations;
o Waste removal methods and controls;
o Ship dismantling sequence and techniques;
o Recovery of the recyclable materials and Completion Statement;
o Restoration of dry dock ready for re-flooding and next ship arrival.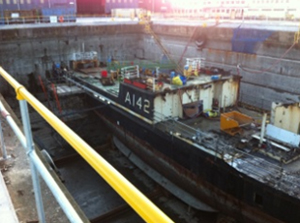 Ballast Water Management Plan. This plan includes:
o Details of the roles and responsibilities of persons to ensure this ballast water management plan is fully implemented and reporting procedures;
o Safety procedures associated with ballast water management;
o A description of the actions to be taken to evaluate, remove, sample, test, discharge/dispose and manage any ballast water and ballast sediments contained within the ship;
o Details of how stability of the ship will be maintained.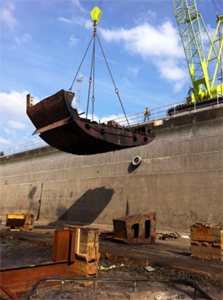 Asbestos Management Plan. This plan details:
o The commitment to a ship specific Plan of Work in accordance Control of Asbestos Regulations 2006 and certification of asbestos removal works;
o Asbestos license requirements and regulatory notification;
o Details relating to the competence of resources and training to those undertaking the works; o Arrangements to deal with accidents, incidents and emergencies;
o Details relating to the control measures to be used to protect personnel, the general public and environment; and o Ambient air monitoring and health surveillance strategies;
The UK Environment Agency approved each of the management plans which accredited SDL to undertake its services to recycle ships in an environmentally sound and professional manner.
For the Tormentor, SDL oversaw and managed the provision of the Towing Plan, including Load-line exemption certificate, the UK MCA (Maritime and Coastguard Agency) certificate for towing and ship preparation for towing.
The ship was towed to SDL ship recycling facility and arrived on February 1st 2012. The ship was securely and safely berthed alongside SDL dry dock #2, in accordance with the Berthing and Docking Management Plan prepared by SDL. Following the familiarisation, training and development of the workforce for this specific ship, the services by SDL to undertake the work on the ship commenced February 8th 2012. The wastes were safely removed, tracked, controlled and disposed to suitably licensed and approved disposal sites. Hazardous wastes were similarly removed and safely disposed in accordance with the Waste Management Control Plan produced by SDL. The wastes were tracked and logged in the purposed designed waste tracking system.
Following the above services, the ship was dry docked on February 29th 2012 in accordance with the Dry Docking Management Plan produced by SDL and dismantling of the ship to recover the recyclable materials took place. The first heavy lift of a hull section was executed on March 2nd 2012 in accordance with the prepared lifting plans produced by SDL. The heavy lift crane used is established on site and is part of the services capability offered by SDL. The ship was completely recycled by March 30th 2012.
The production of the Completion Statement, which includes all of the evidence of wastes, weights and waste tracking, concluded the services by SDL for this first ship. The Completion Statement for each contract for ship recycling services includes:
Executive Summary
SDL recycling facility
Ship received dates and details
Ship waste inventory received
Completed waste tracker report
Record of HWCNs and CWTNs together with weighbridge information
Disposal records and calculation or recycling %
Media coverage reports The services detailed above will be similarly applied to all ships received for recycling at SDL dry docks – the best environmentally available solution.
---
We rigourously adhere to quality, environmental and health and safety standards, and we aim to offer competitive contracts for end of life vessels